Karen King is the award-winning author of over 120 children's books – she has also written many chick lit and light-hearted adult novels. This month sees the reprint of Perfect Summer, runner up in the 2011 Red Telephone Books YA novel competition and one of her highly-acclaimed Young Adult books.
A thrilling novel for teens, 'Perfect Summer' is set in a society obsessed with perfection. 15 year old Morgan is best friends with the seemingly perfect Summer. When Morgan's brother, Josh, who has Down's syndrome, gets kidnapped the two best friends set off to find him – resulting in them uncovering a sinister plot and finding themselves in terrible danger. Will they rescue Josh before it's too late? And is Summer's life as perfect as it seems?
I was lucky enough to talk to Karen about her writing and why she thinks that today's perfection-obsessed society could easily lead us to a dystopian world such as the one in which her characters live. Here's what she had to say…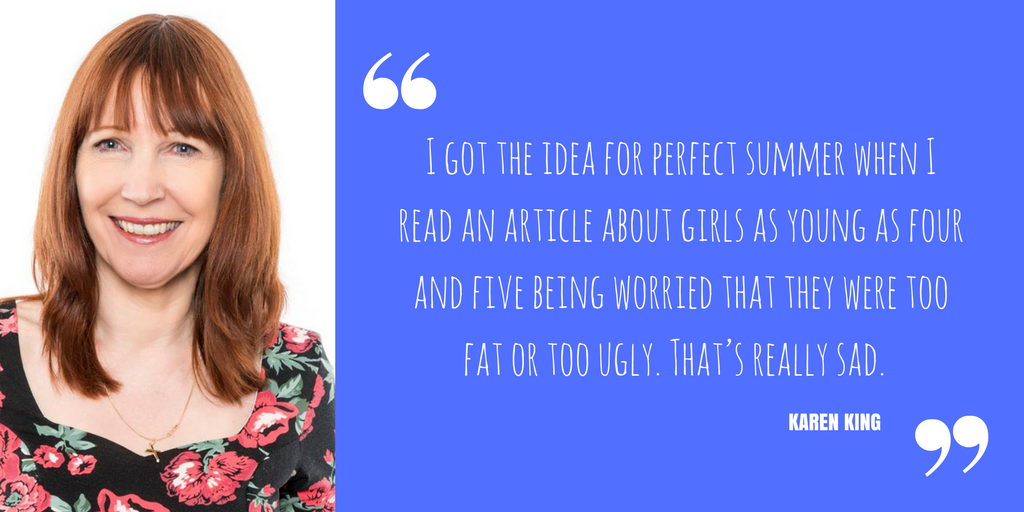 You are already an award-winning children's writer and author of lighthearted women's fiction; and now with 'Perfect Summer' you are writing for young adults. How do you approach each genre? Or is the writing process not that dissimilar?
My mantra (I'm a writing tutor) is 'know your market, know your reader' and that's how I approach everything I write. Then I get ready to write the story. I write a basic story outline and familiarise myself with my character, write a profile to make sure I know them really well, then start writing from 'inside that character's head' so my mindset is in that genre. Of course, I check afterwards that my character is speaking and acting like – in this instance – a teen, but when I write the first draft I always 'go with the flow' and write as if I'm that character speaking.
I love the concept of 'being different' being a crime. How do you think society's constant need for perfection (from beauty-obsessed teens to 'Pinterest Mums') is shaping women's lives?
I think it's making women and young girls very insecure about their looks and their bodies. I got the idea for this story when I read an article about girls as young as four and five being worried that they were too fat or too ugly. That's really sad. I started to think how far this obsession with perfection would go, would it get so bad that people who didn't have perfect looks would be shunned from society? And how would disabled people be treated? I often tweet things on the theme of 'you don't have to be perfect' and I'd really like to get this message across to young girls. That they don't have to look like supermodels, they're beautiful as they are.
'Perfect Summer' tackles some important subjects – from beauty ideals and disability to friendship and fitting in. How is this YA novel different to other young adult reads?
Although the topics it covers have been tackled in other YA books, I hope I've tackled them in a different way, by setting the book in a society not too dissimilar to the one we're living in today, with Morgan being a typical teenager dealing with everyday issues that the reader can relate too. I wanted to leave the reader thinking, could this actually happen? And also to make them ask 'are perfect looks really that important? Should people be discriminated because of how they look?'
And lastly, if you could be a teenager again – would you be one today, in the past or in the future?
In the past, back to the sixties/seventies. There wasn't much then in the way of material things but it was such an exciting time, fashion and music were coming into their own, with new, fresh styles and there wasn't the pressure to conform, as there is today. Teenagers today have a 'cushier' life in the way of home comforts and technology but they're under so much pressure to achieve and conform, and to have a 'perfect life' thanks to social media. I think it's really tough for them.
Thank you Karen King! 'Perfect Summer' is available online, click here to buy your copy and read the latest reviews.